Current Exhibitions and News:
Upstairs Gallery
Currently on display in the Upstairs Gallery, 2-D and 3-D works in a variety of media by Red Grooms. All are from the Center's primary permanent collection, generously donated by Gertrude and Dr. Benmamin Caldwell.
For the first time, the Center is displaying a set of ten framed Piranesi engravings on paper from the Ewers Collection. Here's a bio of the artist:
Giovanni Battista Piranesi (4 October 1720 – 9 November 1778) was an Italian artist famous for his etchings of Rome.
Piranesi was born in Mogliano Veneto, near Treviso, then part of the Republic of Venice. His brother Andrea introduced him to Latin and the ancient civilization, and later he studied as an architect under his uncle, Matteo Lucchesi, who was Magistrato delle Acque, a Venetian engineer who specialized in excavation.
From 1740 he was in Rome with Marco Foscarini, the Venetian envoy to the Vatican. He resided in the Palazzo Venezia and studied under Giuseppe Vasi, who introduced him to the art of etching and engraving. After his studies with Vasi, he collaborated with pupils of the French Academy in Rome to produce a series of vedute (views) of the city; his first work was Prima parte di Architettura e Prospettive (1743), followed in 1745 by Varie Vedute di Roma Antica e Moderna
In 1761 he became a member of the Accademia di San Luca and opened a printing facility of his own. In 1762 the Campo Marzio dell'antica Roma collection of engravings was printed.
The following year he was commissioned by Pope Clement XIII to restore the choir of San Giovanni in Laterano, but the work did not materialize. In 1764 Piranesi started his sole architectural works of importance, the restoration of the church of Santa Maria del Priorato in the Villa of the Knights of Malta in Rome, where he was buried in a tomb designed by Giuseppi Angelini.
In 1767 he was created a knight of the Golden Spur, which enabled him henceforth to sign himself "Cav[aliere] Piranesi". In 1769 his publication of a series of ingenious and sometimes bizarre designs for chimneypieces, as well as an original range of furniture pieces, established his place as a versatile and resourceful designer.[1] In 1776 he created his famous Piranesi Vase, his best known work as a 'restorer' of ancient sculpture.
Also in the Upstairs Gallery
The Lois and Wallis Jones Boehm Porcelain Collection
Donated by one of WTRAC's founding board members, Lois Currie, this beautiful collection of Boehm porcelain birds in not to be missed. From the Boehm website:
"The finest American Porcelain Art Sculptures"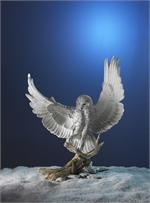 E. M. Boehm, now Boehm Porcelain, is the artisan studio founded by sculptor Edward and wife Helen Boehm in 1950. It is today recognized as one of the world's foremost porcelain studios. Boehm fine porcelain sculptures and open collection and limited edition collectibles, as well as historically-commissioned pieces are created by highly skilled artisans in the same Trenton, New Jersey studio in which the company was founded.
Art from the Boehm studio has been presented to Her Majesty Queen Elizabeth II, Pope John Paul II, Mikhail Gorbachev and every U.S. President since Dwight Eisenhower. Boehm Porcelain is currently showcased globally in the homes of discerning collectors and celebrities as well as the world's foremost museums and galleries including the Metropolitan Museum of Art, the Hermitage, the Smithsonian, the John F. Kennedy Center for the Performing Arts, the Tokyo National Museum, the Israel Museum, the Singapore Art Museum and the Abdine Palace in Cairo. Boehm porcelain is the only American art form to have two dedicated rooms in the Vatican Museum in Rome.
Downstairs Gallery
The Ewers Collection
One of WTRAC's significant permanent collections of fine art was donated by Marge and Dr. Bill Ewers of Nashville. The Ewers Collections includes an impressive variety of American and European paintings, prints, and textiles.
Admission is free. Donations appreciated.
Call 731-784-1787 for additional information.